Each year, the flu takes the lives of thousands, therefore, a special vaccination program is being developed prior to each season, aimed at prevention and the prevention of epidemics. The flu shot 2018-2019 It takes into account the activity of strains of previous years and new agents of the virus, therefore recommended drugs may differ from those used previously.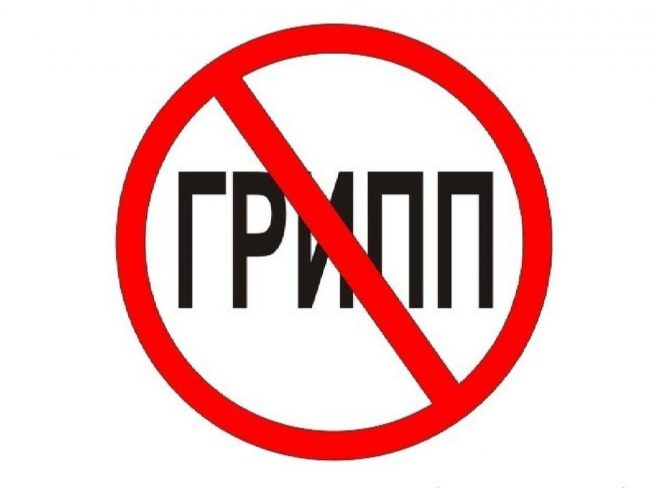 whether the vaccine can 2018-2019 prevent flu outbreak, how to protect themselves from the virus in the new epidemiological season, some vaccinated and where you can make?
Why is the vaccine in the season 2018-2019
Do I need to get vaccinated against the flu - everyone has to decide for himself. On the one hand proved, that almost vaccination 100% It protects against influenza, but it is provided, strain, "Vita" in the air, similar to the vaccine. But there are many varieties of strains, and guess how people will meet with the virus can not be a credible probability.
Important! WHO projects in the period 2018-2019 the probability of the emergence of a new flu variants.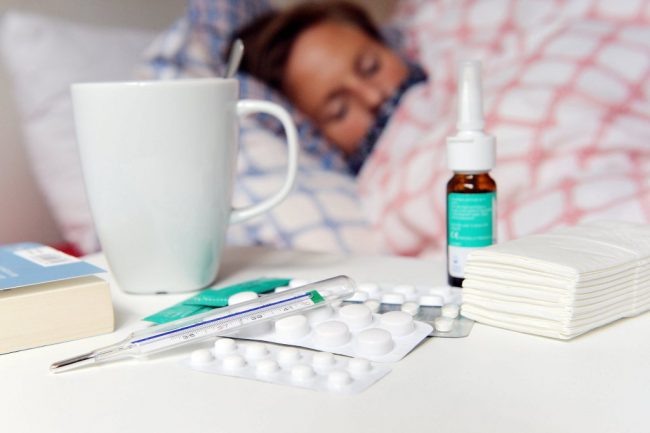 Why the Need for vaccination:
During an outbreak, 2017-2018 the results of the vaccination campaign managed to prevent more than two hundred thousand cases of influenza.
Last season, the vaccinated people was low incidence of influenza and no cases of severe influenza.
The vaccine is safe for children, pregnant women and the elderly.
The probability of protection against influenza after vaccination over 90%, provided, if the virus is the same as the vaccine strain.
The virus becomes more dangerous with each passing year, the number of infected influenza is growing.
Influenza is characterized not only by an acute course, but serious complications (until death).
At the time of vaccination - the easiest and safest way to protect the body from the annual flu epidemic, which every year becomes more and more dangerous for life.
What types of vaccines in 2018-2019 protect against flu
Because the virus is constantly mutating, the manufacturers of the vaccine change each year formula.
Most circulating viruses are considered to be of type B and A, they are most often the cause of epidemics and outbreaks. Therefore, strains of these viruses are included in all vaccines 2018-2019.
When selecting vaccines need to see a doctor. At this point in the territory of the Russian Federation can be grafted in the three flu vaccine:
Grippol;
influvac;
Sovigripp

The vaccine for the active immunization of annual preventive against seasonal influenza
The most effective quadrivalent vaccine against influenza (Sovigripp), tk. it contains an additional type of virus strain B, which most likely will circulate in the Northern Hemisphere season 2018-2019.
Important! Sovigripp drug approved for use only in patients older than 18 years old. Vaccinated children do influvac vaccine or Grippol (Plus analogue Grippol).
Free vaccination season 2018-2019 made drug Sovigripp, which is designed with the "Michigan" a new strain (h1n1). If desired, you can purchase the drug on their own or choose a different vaccine.
Who need to be vaccinated
According to the National Immunization Schedule free vaccination 2018-2019 It is mandatory:
children, starting at 6 months of age;
Studying in vocational educational institutions and organizations of higher education;
students 1-11 classes;
pregnant women;
adults, entering in connection with their professional activities at risk (employees of educational institutions and health care organizations, utilities, public transport, etc.);
people, senior 60 years old;
With chronic diseases;
persons, subject to military conscription.
Categories of people at risk, not included in this list (catering workers, trade, industrial enterprises, etc.), can be instilled by the employer.
note! Employers' costs for the vaccination of employees significantly less, than the cost, related to the cost of hospital during an epidemic. Therefore, employers should take care of the immunization of their employees and purchase vaccines.
WHO recommends to vaccinate all categories of citizens, irrespective of age. Before vaccination, you must undergo a medical examination and to consider all contraindications to its performance.
Vaccination children
Children often, than adults, there are complications after suffering flu. This is due to the imperfection of the baby's immune system, which is unable to resist the dangerous virus.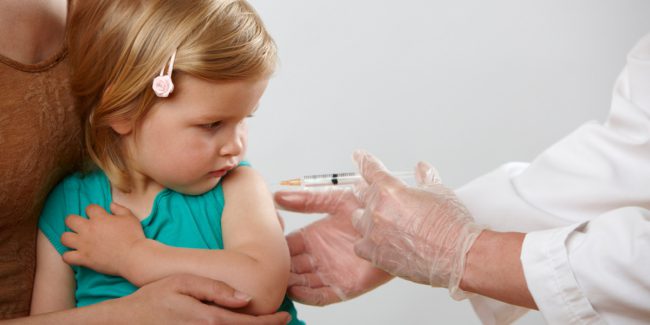 To reduce the risk of influenza infection and prevent the development of complications, doctors with one voice are advised to vaccinate a child every year. Especially it concerns children, that:
Often suffer from colds;
Have a chronic disease of the respiratory tract;
Frequented by large teams (school, kindergarten, et al.);
Have endocrine and cardiovascular diseases;
HIV-infected.
Before, how to send the baby to be vaccinated, the physician should carefully examine the crumbs and make sure, that the baby is healthy, that he had no evidence of SARS and there is no temperature.
note! Vaccination against influenza can be done simultaneously with other vaccines (except BCG).
Vaccination is not carried the child:
At the age of 6 months;
In the acute form of ARI at the time of vaccination;
When you are allergic to chicken protein;
During exacerbation of chronic pathologies.
In babies after vaccination may increase the temperature, puffiness, redness and soreness at the injection site. These symptoms disappear within two days.
Vaccination for adults
Adults who are also at high risk of flu, tk. they are in contact on a daily basis with others in the public transport, at work, in supermarkets, etc..
Influenza is particularly dangerous for the elderly, which are more susceptible to flu complications because of a weakened immune system.
Therefore, older people 60 years old (special, have chronic kidney disease and cardiovascular system) included in the list of nationals, subject to mandatory vaccination.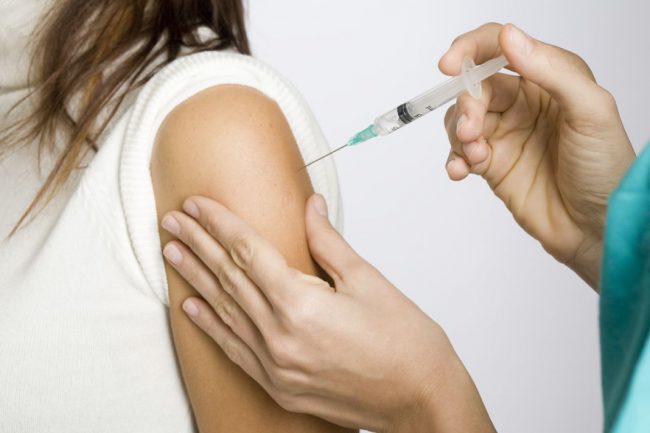 For adults, the vaccine against influenza is not mandatory and optional, although it is free. At the time of vaccination of a person should feel healthy, have an acute stage of a disease and symptoms of acute respiratory disease.
In a couple of days after the procedure may be felt unwell, slight fever, headache, redness at the injection site. For some time after the procedure should exclude alcohol and food allergens, and avoid visiting crowded places.
Vaccination for pregnant women
Doctors are not unique in their opinion, whether or not to vaccinate pregnant. Opponents of vaccination explain his point of view the lack of results of the use of these vaccines in pregnant, because it is impossible to predict the effects of vaccination.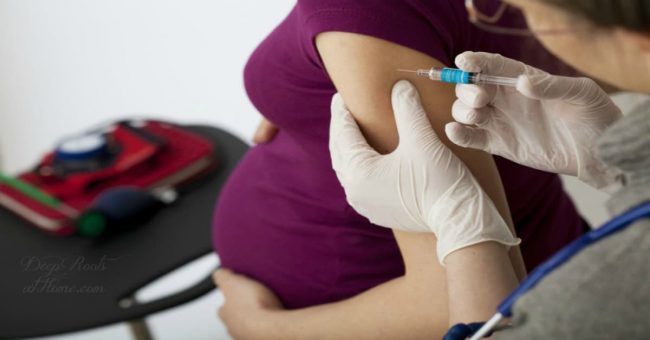 On the other hand, doctors say, that vaccines are safe and necessary in pregnancy planning stage, during lactation and gestation for the following reasons:
The structure of modern vaccines include inactivated viruses, are safe for the fetus;
Vaccination reduces the risk of disease in the expectant mother during, when the body of the pregnant weak and most susceptible to diseases.
A decision on vaccination pregnant woman should take in conjunction with the doctor, on the basis of tests and examinations.
When to vaccinate in 2018-2019
Effect of vaccination is not immediately, so, in time to prepare the body for virus, you need to be vaccinated in advance. The most dangerous for the flu are January and February, and therefore need to be vaccinated, since the fall. Vaccine efficacy decreases over time, ie vaccination inadvisable to do before September.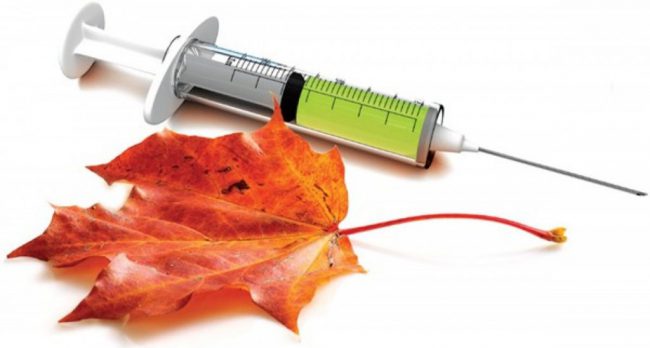 Important! The optimal time for vaccination in October-November. Vaccination in December will no longer make sense, tk. the body does not have time to organize a barrier to the virus.
Currently, the vaccination campaign is in full swing - with 4 September 2018 year vaccination may be carried out in mobile locations, clinics and centers of public services.
Adult population vaccinated once put. Vaccination of children takes place in two stages: first shot makes first week of October, re - through 30 days. At the recommendation of a pediatrician child's first vaccination may occur earlier (in September), but in any case re-vaccinated child needs.
Where to get a flu shot 2018-2019: addresses and points
Vaccination is carried out in all the cities of the Russian Federation in the vaccination clinics offices (at the place of residence), in kindergartens and schools. Besides, in coordination with the medical organization possible vaccination of employees of enterprises and organizations at the workplace mobile teams clinics.
Important! Vaccination in healthcare facilities is free of charge. Exceptions are private clinics, which have a license to carry out vaccination.
Where to get vaccinated in Moscow
date and time
Location

Monday through Friday: with 8.00 the morning until eight o'clock in the evening

17-23 September

01-07 October

15-21 October

On Saturday: with 9.00 in the morning to six o'clock in the evening

On Sunday: with 9.00 am to four pm

Metro stations:

· ВДНХ;

· Новогиреево;

· Планерная;

· Савеловская;

· Бауманская;

· Бульвар Рокоссовского;

· Люблино;

· Павелецкая кольцевая;

· Каширская;

· Теплый стан;

· Тульская;

· Киевская кольцевая.

Monday through Friday: with 8.00 the morning until eight o'clock in the evening

24-30 September

08-14 October

22-28 October

On Saturday: with 9.00 in the morning to six o'clock in the evening

On Sunday: with 9.00 am to four pm

Metro stations:

· Альтуфьево;

· Перово;

· Пражская;

· Коломенская;

· Ясенево;

· Тушинская;

· Селигерская;

· Семеновская;

· Новокосино;

· Царицыно;

· Кузьминки;

· Молодежная.

Monday through Friday: with 8.00 the morning until eight o'clock in the evening

20 August - 28 October

On Saturday: with 9.00 in the morning to six o'clock in the evening

On Sunday: with 9.00 am to four pm

Metro stations:

· Тверская;

· Петровско-Разумовская;

· Домодедовская;

· ЖД станция Крюково;

· Курская кольцевая;

· Белорусская кольцевая;

· Речной вокзал;

· Владыкино;

· Площадь Гагарина;

· ЖД станция Щербинка.

20 August - 28 October

Only on weekends

The hours of operation of shopping centers

Shopping centers (region):

· ТРК Щука (SZAO);

· ТРК Золотой Вавилон Ростокино (SVAO);

· ТРЦ Калейдоскоп (SZAO);

· ТРЦ Океания (EVIL);

· ТРЦ Колумбус (SAD);

· ТЦ Калужский (SWAD);

· ТРЦ Фестиваль (EVIL);

· ТЦ Вишняковский пассаж (VAO);

· БП Румянцево (Tina).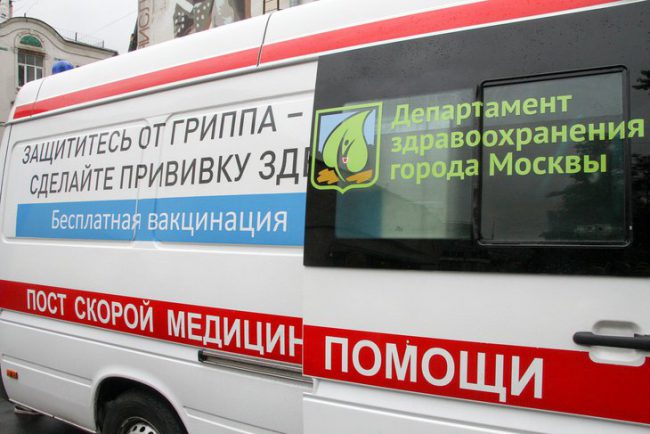 Where to get vaccinated in St. Petersburg
date and time
Metro stations
September October 2018

Monday through Friday: with 14.00- to 20.00

15.09, 29.09: with 11.00- do15.00

17.09: s14.00- to 19.00

Civil Prospect
September October 2018

Monday Friday: with 14.00- to 20.00

Devyatkino
10.09-28.09: 14.00-20.00
Lenin Square
3.09-28.09 daily: with 12.00- to 19.00

22.09: 12.00-15.00

academic
17-28 September daily from 13.00- to 20.00
area courage
15.09, 18.09: with 8.00- to 19.30

20.09: with 9.00- to 19.00

22.09: with 14.00-up 20.00

24.09: with 8.00- to 19.30

26.09: with 9.00- to 13.00, with 15.00- to 19.00

29.09: with 9.00- to 18.00

Prospect Education
14.09 and 25 .09 with 8.00 the morning until eight o'clock in the evening

28 .09: 8.00-13.00, 14.30-18.30

ponds
17.09I: 8.00-20.00

22.09: 8.30-12.30

specific
19 .09: 8.00-13.00, 15.00-19.00

21.09: 9.00-19.00

27.09: 9.00-19.00

Parnassus
03.09-28.09

On weekdays

15.30-19.00

Novocherkassk

Ladoga

03.09-28.09

On weekdays

16.00-18.00

Moscow
03.09-28.09

Tuesday, Thursday

17.00-19.00

Stellar
05.09-27.09

On weekdays

10.00-14.00

Chkalovskaya
05.09-27.09

On weekdays

15.00-19.00

Gorky
05.09-27.09

Monday Thursday

13.30-19.30

Old village;

Pioneer;

jogging;

Black River;

Commandant Prospect

05.09-27.09

On Monday, Wednesday and Friday : with 8.30- to 12.00, and s16.30- to 19.30

Saturday: 11.00-15.00

International
05.09-27.09

On Monday, Wednesday and Friday: with 8.00- do13.00

On Tuesdays and Thursdays: with 16.00 to 19.00

Kupchino
05.09-28.09

9.00-18.00

Vladimir
3.09-28.09

9.00-20.00

ligovsky Avenue
Graft 2018-2019 from the flu will not get sick during an epidemic or provide for the disease in a mild form, and prevent possible complications.
WHO claims, that all developed vaccines 2018-2019 safe to use, and vaccination is an important procedure to strengthen the body's defenses. Negative reviews about the flu vaccine linked to the unfair attitude of medical staff (substandard patient examination, admission to the sick person grafting) or using a poor quality vaccine.