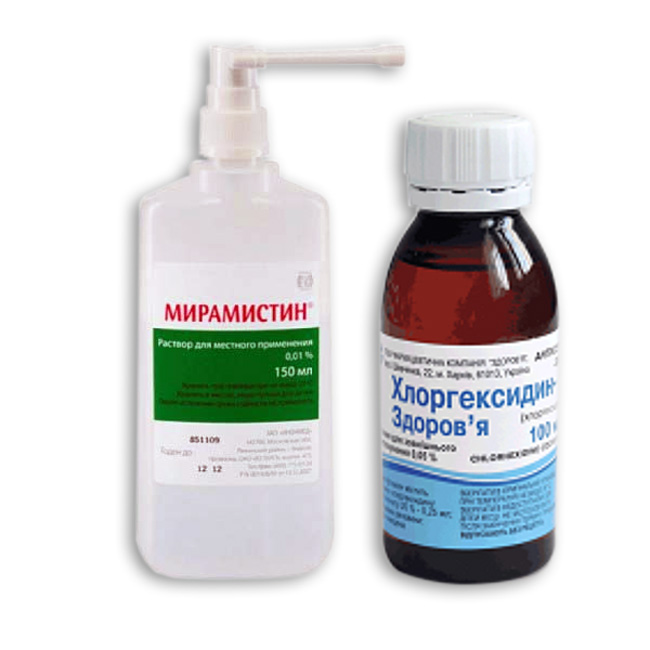 Miramistin and Chlorhexidine - popular drugs for the treatment of inflammatory diseases of the mucous membrane of the throat and genitals, to accelerate the healing of purulent wounds. Both solutions intended for topical use. They have antiviral and antibacterial effect, so widely used not only in hospitals, but also at home.
Composition Miramistin and Chlorhexidine
Initially positioned Chlorhexidine, as an antiseptic for skin treatment. His British chemists synthesized in the middle of the last century. Chlorhexidine is a monotherapy, whose active component - Chlorhexidine digluconate. Release the drug in an aqueous-alcoholic or aqueous solutions. The concentration of active substance is from 0,05% to 5%.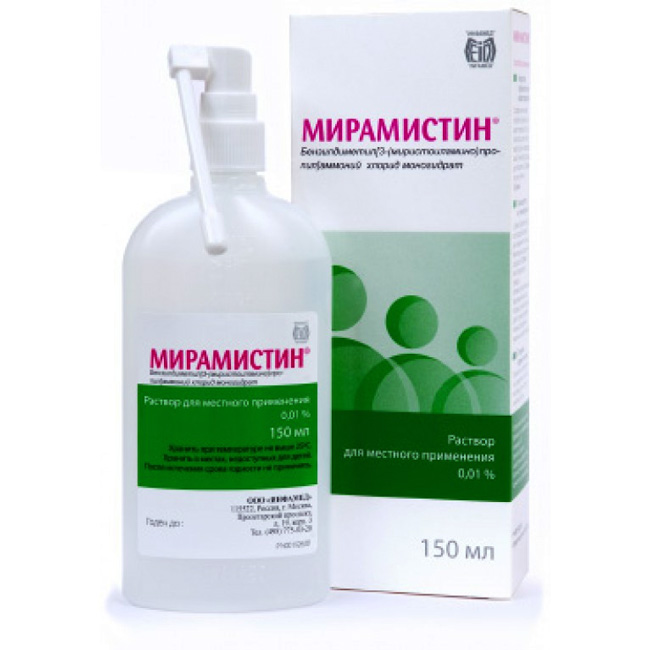 Since the composition includes chloro Chlorhexidine, it poses a threat not only to pathogenic bacteria, but the man, as it is - gas, which was used during the First World War as a weapon of mass destruction. If Chlorhexidine enters the stomach in a concentration above 0,2%, the person will need washing. The solution has an aggressive action on the mucous membranes. Besides, when in contact with fire it is peculiar to ignite.
Miramistin - a monotherapy, active ingredient is benzyldimethyl ammonium chloride monohydrate. The drug began to be used in the early 2000 years. It is a universal, because it has a broad spectrum of activity. The active component in the preparation of acts miramistin. AT 1 ml liquid is 0,1 mg of dry active substance.
What are the similarities between the chlorhexidine and Miramistin?
Both the drug following characteristics:
high activity in combating fungi and viruses due to damage to the shell harmful microorganisms;
save the bactericidal effect in the presence of pus or blood;
antibacterial activity at the same level.
Differences between treatments
Miramistin doctors prescribe to treat yeast fungi, sexually transmitted pathogens pathologies, and in the presence of chlamydia.
Chlorhexidine and Miramistin able to remove the inflammatory process and to provide an antimicrobial effect without absorption through the skin.
note! Miramistin unlike Chlorhexidine has immunoadjuvant action. The drug stimulates skin regeneration, involved in activation of the defense mechanism and accelerates the healing process.
Miramistin approved for the treatment of women during pregnancy and lactation. In pediatrics it is used rarely and only under medical supervision.
According to responses of patients, Miramistin effective in the fight against acne, gynecological infections, and as a prophylactic agent for respiratory diseases. Many patients using the drug content for washing nasal and therapy of purulent conjunctivitis.
Chlorhexidine must not be used for the treatment of children under the age 12 years old. Also it is contraindicated in people, allergy sufferers, skin dermatitis and various skin infections.
Chlorhexidine unlike miramistinom has a narrow spectrum of activity. Most often it is used to disinfect wounds and skin disinfection.
Miramistin produced in several forms:
solution;
spray;
ointment.
Chlorhexidine can be found at the pharmacy in such forms:
Important! Chlorhexidine must not be used during pregnancy and breastfeeding.
Chlorhexidine has a bitter taste, It has a neutral taste Miramistin. Ingestion miramistinom no systemic effects on the human body.
Instructions for use of Chlorhexidine
Chlorhexidine has the following indications for use:
Skin diseases of bacterial and fungal etiology.
festering wound.
Mucous membranes in the oral cavity (stomatitis, periodontitis and other diseases).
disease Prevention, transmitted during intimate contact.
Processing skin before or after surgery.
Prevention of infectious pathologies of upper respiratory tract.
Processing dentures.
Burns and other skin damage.
Quite often treated with chlorhexidine medical instruments, equipment and surface equipment.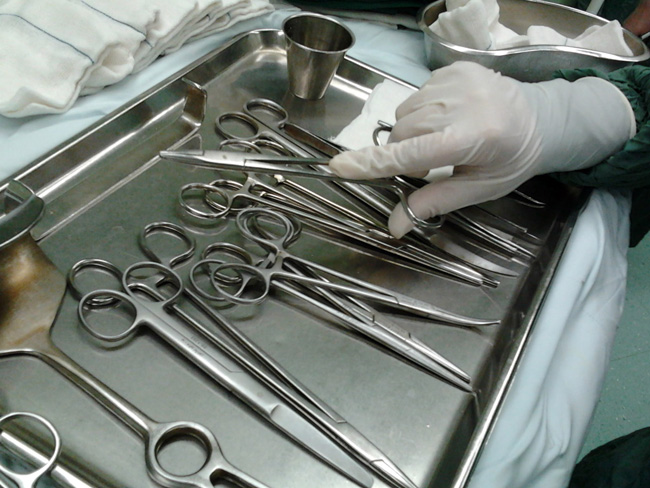 For the prevention of sexually transmitted diseases, doctors recommend the use of 0,05% Chlorhexidine solution is not more, than 2 hours after the unprotected intimacy. The dosage of the drug for men - 2-3 ml, which are introduced into the urinary canal. The recommended dosage for women - 1-2 blah for administration into the urinary channel and 5-10 ml vagina. It is advisable to treat the skin with a solution on the genitals and inner thighs.
Important! Urination may be later 2 hours after the procedure, otherwise the effectiveness of the drug is reduced.
If a patient has inflammation of the urinary tract, the doctor prescribes Chlorhexidine administering into the urinary canal in a dosage 2-3 ml twice a day. The drug should be used every other day. therapy is 10 days.
Chlorhexidine rinse the throat should be used 2-3 times a day.
For the treatment of wounds and burns agent is used 2-3 times a day in the form of irrigation or compresses. compress time - from 1 to 3 minutes.
note! When applying Chlorhexidine on sensitive skin may experience itching, dry skin and dermatitis.
Instructions for use Miramistin
For the prevention of sexually transmitted pathologies women should be administered to the vagina 10 ml miramistinom, men - no more than 1 ml into the urethra.
When the dosage is otitis 2 ml, which was injected into the ear canal. Throughout the day allowed 2-3 times drip ears drug.
When stomatitis and gingivitis need to rinse your mouth with a solution of not less than 3 times a day. It is enough 10-15 ml miramistinom.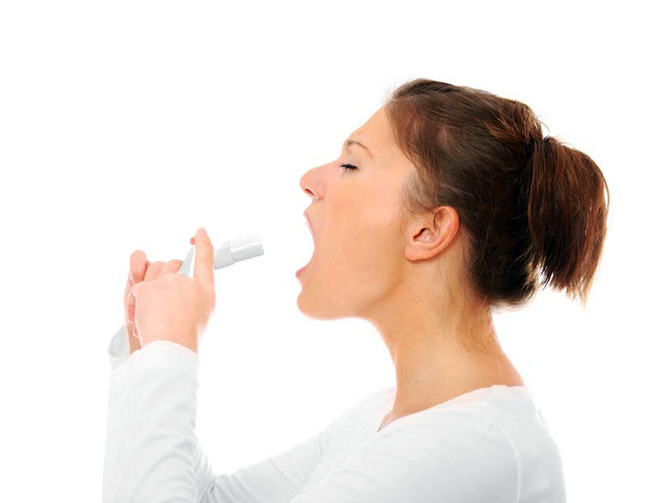 For treatment of respiratory diseases should gargle, using 10-15 ml per procedure. Rinsing is recommended 5-6 once a day. Also in the treatment of pharyngitis or tonsillitis allowed to do inhalation solution. To do this, you must buy in the drugstore a special device - a nebulizer. It is enough to carry out the procedure 3 times a day. The required single dosage Miramistin - 4 ml.
The drug can be used to treat the common cold. They should bury your nose 2 times a day. When burning sensation mucosal better refrain from further use of tools.
prices
Price Chlorhexidine solution varies 10-15 rubles per bottle in 100 ml.
Price is spray Chlorhexidine 20-30 rubles.
A distinctive feature of Miramistin - higher cost. Price Miramistin solution ranges 220-310 rubles per bottle in 50 ml.
Price spray Miramistin - 370 – 440 rubles.
The price of the solution Miramistin 500 ml of 760-880 rubles.
The price of the ointment Miramistin - 300-400 rubles.
What can replace Chlorhexidine or Miramistin?
Instead of Chlorhexidine and Miramistin to treat throat, you can use the following drugs:
Lizobakt;
İngalipt;
Rotokan and other.
What to choose - or Miramistin Lizobakt?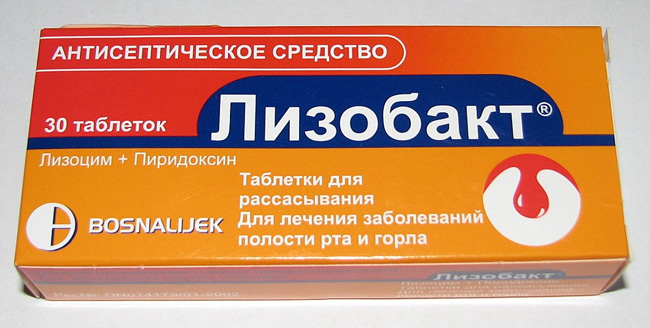 If we compare Miramistin and Lizobakt, the second drug is used only for the treatment of respiratory infections and dental disease. Lizobakt produced in the form of tablets. These drugs are not structural analogues, but have similar actions. The active substances act in Lizobakte lysozyme hydrochloride and pyridoxine hydrochloride.
Nuance! The drug should not be used for children under 3 years, as well as people with lactose intolerance.
Side effects Lizobakta include possible allergic reactions while, both the rinsing miramistinom rarely occurs transient burning sensation in the oral cavity.
The cost of packaging in Lizobakt 30 tablets - 460-490 rubles.
What is better - or Miramistin Ingalipt?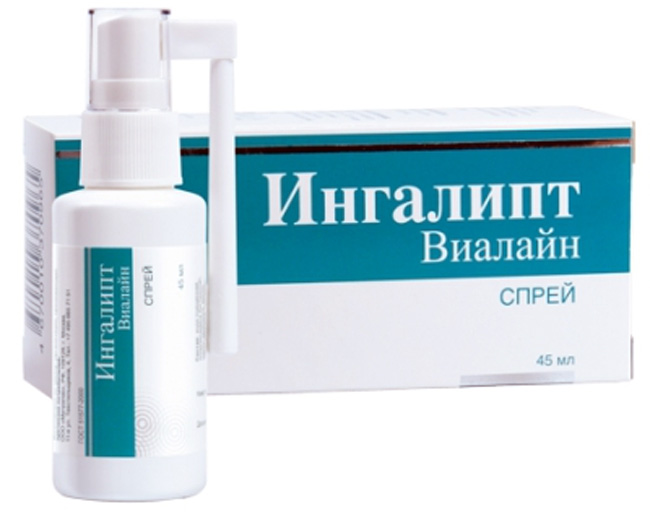 Ingalipt represents a combined anti-inflammatory agent, having antimicrobial effect. It is intended exclusively for the treatment of diseases of the pharynx and the oral cavity. Available in the form of aerosols. A major shortcoming is Ingalipt, it can not be used during pregnancy and lactation.
As Miramistin, Ingalipt able to provoke allergic reactions in the patient and cause burning at the application site. In Ingalipt contains oil of peppermint leaves, and the leaves of eucalyptus, and acts as an antiseptic thymol substance.
Price Ingalipt drug - 130-160 rubles.
What preparation is effective - or Miramistin Rotokan?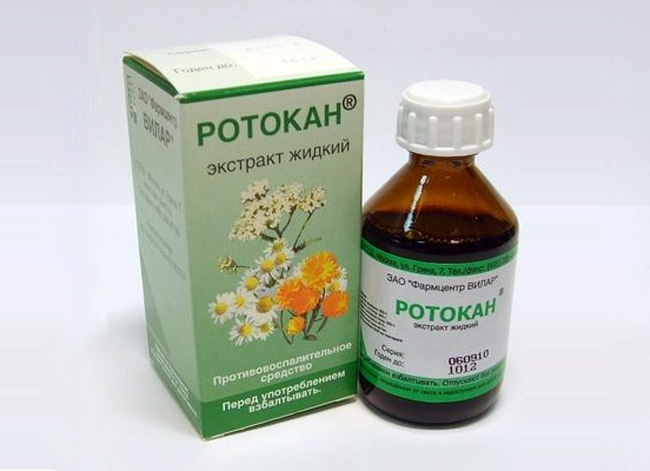 Rotokan - a natural antiseptic. It consists of the following components:
marigold extract;
yarrow extract;
chamomile extract.
The drug is produced in a liquid of dark brown color with a smell. Unlike miramistinom Rotokan affects mucosal softer, able to stop bleeding and to remove minor pain in the oral cavity. Antiseptic Rotokan from above, than the Miramistin.
Rotokan extremely seldom able to induce an allergic reaction. The drug is allowed to be used for the treatment of children over 3 years. To do this, mix 200 ml of water and 10 ml. For the treatment of adult dosage may be up to 30 ml.
Price Rotokan drug - 40-70 rubles.
Analogue Miramistin for children
Miramistin an effective substitute for the treatment of children - drug Dekasan. He is actively engaged in the fight against bacteria, viruses and fungi. As Miramistin, it should be applied topically, it is not absorbed intact skin and mucous membranes.
List Dekasana indications are:
fungal and bacterial skin lesions;
gynecological diseases;
dental pathology;
inflammatory disease of the tonsils.
Unlike Miramistin, Dekasan can not be used for treatment of burns. Also, it is not applicable for instillation into the ear canal.
Dekasana drawback - it is more frequent allergic reactions after use.
The price of the drug varies 110 – 150 rubles.
Reviews
Nikita, 28 years old. I first learned about Miramistin month ago, when I have a sore throat. This tool is advised my friend. It costs me a spray at 350 rubles. He has a very handy tip, whereby the means of sprayed fine droplets, enveloping throat wall. Burning and other discomfort was not. Miramistin coped with its task. for 5 days my throat returned to normal, so I can safely recommend it.
Maria, 35 years old. This antiseptic has appointed us to a pediatrician, when his son badly sore throat. In conjunction with Miramistin had to use Erespal. His child, I always fly strictly by prescription, so I bought prescription drugs without much thought. I have previously applied analogue Miramistin - Chlorhexidine. With him I have known more 10 years old. For the treatment of the son of a drug is not suitable, because it is quite aggressive. A Miramistin contrary has no age limit and has few contraindications. Of the benefits of the drug would like to note that, that the throat of the baby passed quickly. Also, it was easy to sprinkle the child, since it is odorless and tasteless. Among the few drawbacks - the high price. But I'm ready to spend money for the sake of the health of their loved ones.
Svetlana, 22 of the year. I have found an unusual use of Chlorhexidine - use it as a home tonic for the face. Thanks to him, I am perfectly removes makeup from the face and neck. Use means the evening after work, then nanoshu moisturizing night cream. To prepare the tonic take Hydrolat chamomile and nettle mixed in equal proportions with chlorhexidine. I like this tool a handy bottle. Tonic I blend right in it. You can instead use essential oils Hydrolat. For example, for oily skin is well suited essential tea tree oil. Enough to drip a few drops in the chlorhexidine and clean means of rash. At me they are very fast.