Streptococcal bacteriophage - immuno-biological preparations on the basis of specific live virus, capable of delivering a devastating effect on the bacteria of the genus Streptococcus. It is used for the causal treatment of infectious genesis of various localization in adults and children.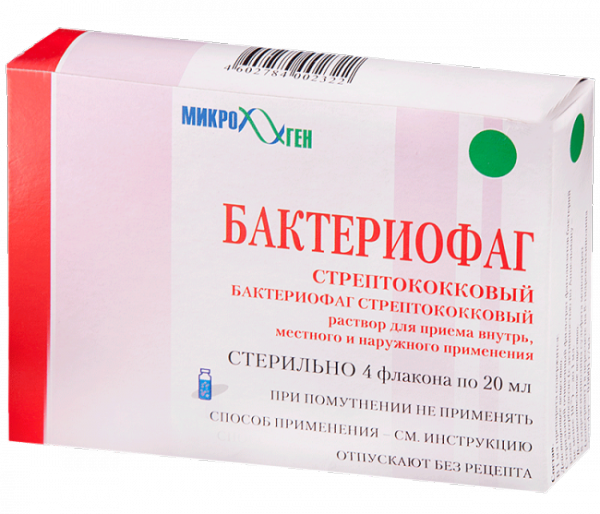 Description
Streptococcal bacteriophage produced in the form of a yellow clear solution in vials. The active component therein acts sterile fagolizat streptococcal strains.
Bacteriophage has the following indications for use:
gastroénterokolit;
intestinal dysbiosis;
cholecystitis;
pyoderma, omfalit, conjunctivitis and sepsis in newborns;
osteomielit;
mastitis;
pleurisy;
phlegmon;
gïdradenït;
boils;
abscess;
burns;
festering wound;
urogenitalynыe infections;
diseases of respiratory tract and lungs;
diseases of the respiratory system;
the prevention of nosocomial infections, associated with streptococcus.
Buy streptococcal bacteriophage can be without a prescription. The price of the drug varies 750-800 rubles. Country of origin - Russia.
How to take the drug
The dosage for children depends on age and disease:
up to age 6 months - the dose is 5 ml inwardly and 5-10 ml enema;
6-12 months - 10 ml inwardly and 10-20 ml enema;
from 1 years before 3 years old - 15 ml inwardly and 20-30 ml enema;
about 3 to 8 years old - 15-20 ml inwardly and 30-40 ml enema;
from 8 years and older - 20-30 ml inwardly and 40-50 ml enema.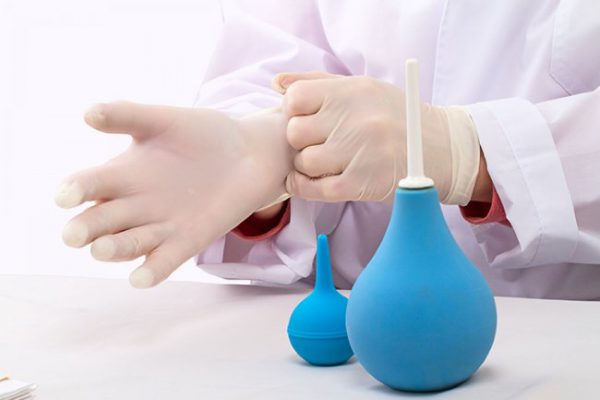 When enterocolitis and sepsis in newborns or premature drug use in the form of high enemas, in dosage 5-10 ml max 3 once a day. In the absence of emesis can take it inside. In this case, it is mixed with breast milk. If a child pyoderma and infected wound, it is necessary to moisten the gauze in the Bacteriophage and apply to the affected area 2 times a day.
When pyo-inflammatory drug with a specific localization should use both inside and locally within 7-20 days.
Depending on the source of infection Bacteriophage prescribed for lotions, irrigation and plugging. After removal of the purulent mass in abscess by puncture the drug is administered in a smaller volume of, than the volume of the remote pus. Osteomyelitis doctor pours into the wound at a dosage of Bacteriophage 10-20 ml.
Adults with cystitis, urethra, pyelonephritis drug should be taken at a dose of, selected by the attending physician.
Gynecological diseases bacteriophage are administered in the vagina or uterus in a dosage 5-10 ml once daily, when coleitis - a dose 10 ml plugging or irrigation 2 times a day.
In diseases of the ear, nose and throat agent should be administered 2-10 ml three times a day. Bacteriophage also can be used for washing, rinses, instillation or wet in turundy vehicle and leave them on 1 time.
When dysbacteriosis bowel drug must be taken 3 times a day 1 hour before meals.
note! Before opening the bottle should wash their hands, handle cap with antiseptic solution and remove it, without opening the plug. Never leave an open bottle. Store this medication in the refrigerator only.
If Bacteriophage appointed in small doses, then you need to select a sterile syringe in the amount of 0,5-1 ml.
Contraindications
Streptococcal bacteriophage is contraindicated in individual intolerance components.
Side effects
According to the instructions for use, Streptococcal bacteriophage has no side effects.
analogs
Bacteriophage can replace streptococcal such analogs:
Bacteriophage dyzenteryynыy polyvalentnыy;
Sekstafagpiobakteriofag polyvalent;
Bacteriophage Klebsiella pneumonia;
bacteriophage staphylococcal.
Bacteriophage dyzenteryynыy polyvalentnыy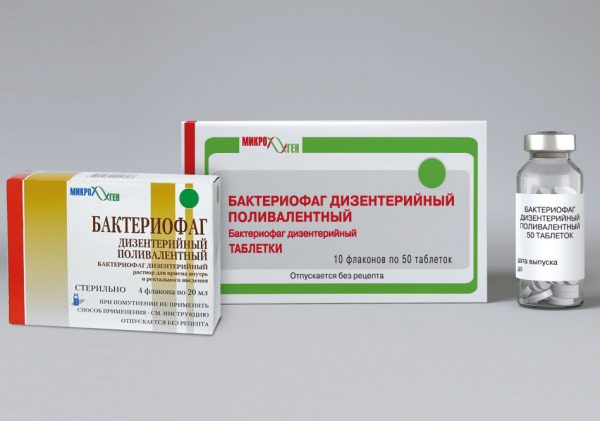 immunobiological preparations, agents active against bacterial dysentery. Release means in the form of tablets, rectal suppositories and in vials a solution of. It is prescribed to children from 6 months of age and adults for the treatment and prevention of bacterial dysentery.
Important! The drug is contraindicated in case of hypersensitivity to the components. The caution should be applied at the expressed symptoms of intoxication.
The price of the drug dysentery polyvalent bacteriophage - 860-1385 rubles. Country of origin - Russia.
Sekstafag piobakteriofag polyvalent
immunobiological means, for the treatment and prevention of pathologies, caused by streptococci, staphylococci, Klebsiella, Proteus, Escherichia coli and Pseudomonas aeruginosa. Release preparation in the form of oral solution, external and local application.
note! In severe manifestations Sekstafag polyvalent piobakteriofag infectious diseases administered as part of a treatment.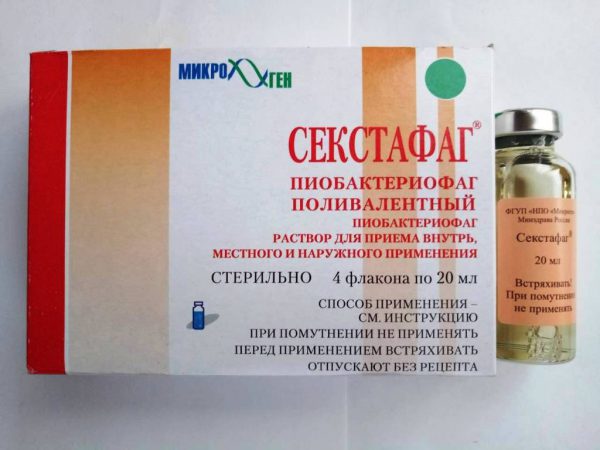 Price of the drug is in the range 730-800 rubles. Country of origin - Russia.
Bacteriophage Klebsiella pneumonia
A preparation in the form of a solution based on purified filtrate fagolizata bacteria Klebsiellapneumoniae. It is prescribed for diseases of the digestive organs, surgical infections and urogenital diseases. It is also effective in the festering wounds and infected wounds. The product is used in ophthalmic, ENT and pediatric patients for the local or systemic treatment of pathologies, caused by strains Klebsiellapneumoniae.
Price Bacteriophage Klebsiella pneumonia - 630-700 rubles. Country of origin - Russia.
bacteriophage staphylococcal
immunobiological preparations, intended to destroy the staphylococci. Release it in the form of tablets, oral solution, suppositories and ointments. Bacteriophage staphylococcal prescribed for abscess, burns, festering wounds, karbunkulakh, blain, acute respiratory infections, urogenital infections, gastrointestinal infections, chronic inflammatory pathologies in newborns and for the prevention of postoperative complications.
The advantages include the absence of drug addiction doctors. It is also approved for use during pregnancy and breastfeeding. The drug has no negative effect on the useful bacterial flora and the patient's immune system in general. Duration of treatment - 7-20 days. For relapsing forms of diseases it is recommended to take courses several times a year.
note! In preparation are no contraindications and side effects. It is extremely rare for patients there is an inflammatory process, and short-term congestion.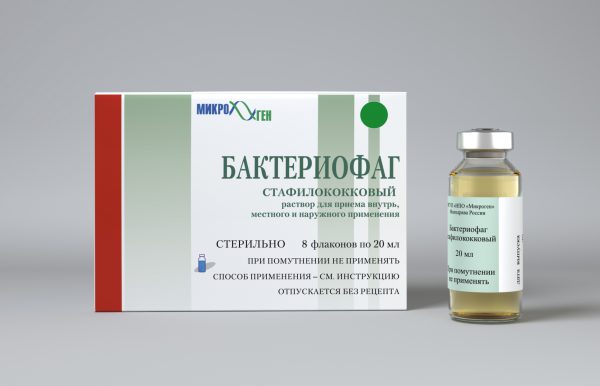 Price staphylococcal bacteriophage - 740-800 rubles. Produce the drug in Russia.
Testimonials
Lyudmila, 28 years old. After that, as the daughter went to kindergarten, runny nose and cough were her constant companions. They began to accept syrup, He did not help, switched to antibiotics, too little help was. After passing the tests revealed, that the baby's body streptococcus. Doctors appointed us streptococcal bacteriophage. You can buy it only in public pharmacies. The drug is sold in bottles. Giving medicine to a child for an hour before meals twice daily at a dose of 5 ml. Keep it should be mandatory in the refrigerator, but only to open a bottle before use. After treatment, the daughter of well-being has improved, and she already went without coughing. Streptococcal bacteriophage to treat children definitely recommend!
Daria, 33 of the year. Due to the chronic tonsillitis I periodically have to go to Lore. A month ago, I took a swab and found streptococcus. The doctor recommended to take a course of antibiotics, and my son is appointed for preventing bacteriophage infection. The drug cost me in 800 rubles, also find it in our city was very difficult. After three days of taking the medicine took the child to the pediatrician. At the hospital, the son has passed the throat swab, streptococcus it did not reveal. Bacteriophage was effective and protect the baby from infection, that I had. Price matches the quality of the drug.
Olga, 40 years old. Bacteriophage believe streptococcal good alternative to antibiotics. We had to use it several times, and not only to me, but also to her husband. In all cases, he showed decent result. Apply it with purulent rhinitis and diseases of the gastrointestinal tract. After prolonged use of the doctor said, that it is necessary to drink probiotics. Believe drug effective, but expensive.
Marina, 25 years old. AT 2014 year, When I got pregnant, I began to feel bad, I could not go far, headache, throat, It was general weakness. He sought the help of the therapist. He gave me a direction on the analysis of fecal change and taking scrapings. It turned, I have Pseudomonas aeruginosa. I think, it happened on, that in the first 2 month of pregnancy I have had severe constipation, I myself wrote out drug Duphalac. After him, I had terrible diarrhea. Then I got to the infectious diseases, but he did not know, I prescribe at this early stage. The therapist has appointed me Bacteriophage streptococcal. Treatment was not cheap. Propyl preparation course, I passed the tests again. They showed, that everything is clean. Bacteriophage coped with the task and made my life easier.
Veronica, 42 of the year. Tonsillitis I was diagnosed in school days. After each exacerbation of angina in the legs appeared painful red bumps. Doctors prescribed antibiotics, but they give only short-term effect. In September this year, much throat and fever. The doctor advised me to streptococcal bacteriophage in combination with the drug Imudon. For full course I had to buy 2 packaging Bacteriophage. On the palate it was very nasty, and the smell of rotten eggs resembled solution. Therapeutic effect after the bacteriophage did not notice. The doctor had to choose another treatment regimen. I think, in severe cases the drug is useless. pleases, that the adverse effects it has no.