pliers, beetles and other insects are not only harmful to the crop, because they feed on vegetative and generative organs of plants, but are carriers of various diseases. Because of them, subject to fungal and viral infections of ornamental, and fruit crops. Many gardeners and owners of indoor plants used fungicide Akhtar for pest control.
In the case of insects, people tend to choose the means, which would solve the problem and at the same time carried the use of color or vegetables. It is believed, Akhtar drug that meets these parameters. It belongs to the best insecticide intestinal-contact action.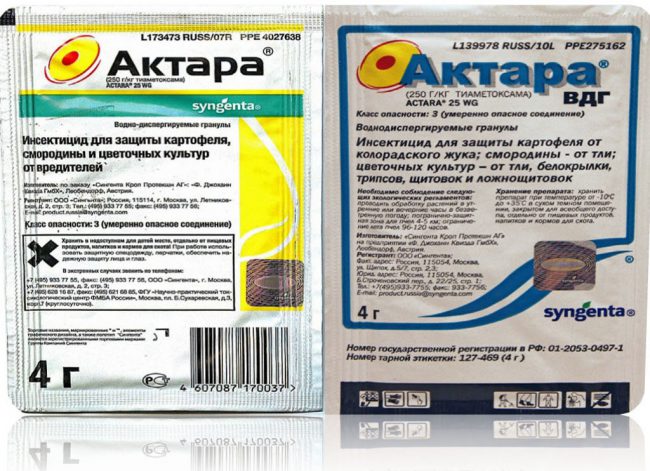 Description of
Insecticide Akhtar is based on thiamethoxam. The substance is added in an amount 240 g / l and 250 g / kg. Means a light cream color is produced by the Swiss company Syngenta Crop Protekshn hypertension and has several forms of release. The stores acquired pills, soluble powder, water dispersible granules and suspension. Funds do not burn, they begin to melt, when the temperature reached 139 degrees. The drug is dissolved in the liquid temperature more 25 degrees. He has no particular smell.
Liquid concentrate was placed in glass bottles with volume 9, 250 or 1000 ml. Pills in blisters spread, a soluble powder is packed in bags of foil, which is the weight 4 g. Granules sold in plastic packages by weight 1 to 4 g. The highest concentration of active ingredient is in suspension, and least thiamethoxam tablets.
Akhtar - a next-generation tool, which can protect plants for a period of one to two months. Despite this efficiency, It refers to low-toxic insecticide. According to the instructions for use Akhtar, it is capable of destroying about a hundred species of harmful insects.
Effects on Pests
Due to moderate toxicity Akhtar has little effect on people's health, mammals, birds, earthworms and organisms, aquatic, but very harmful to bees. The treated area for one or two months is protected against a wide range of pests. Akhtar used by the Colorado potato beetle, by aphids and other insects, such as:
Shtitovka,
Trips,
larvae cockchafer,
Plodorozhka,
Pochvennaya gunpoint,
Chafer.
Some have resorted to the use of the drug for the protection of cucumber from whiteflies, but this remedy is ineffective against this pest. The feedback to indicate Akhtar, that with its help it is impossible to get rid of ticks, Although some treatment is carried out to eliminate spider species. Most often buy from aphid insecticide or other common pests.
Fungicides can be processed fruit trees and berry bushes. Akhtar used for houseplants and flower crops. Description allows for the use of cereals and vegetable seedlings. Additional decorative color agent is generally used to protect roses, violets and orchids.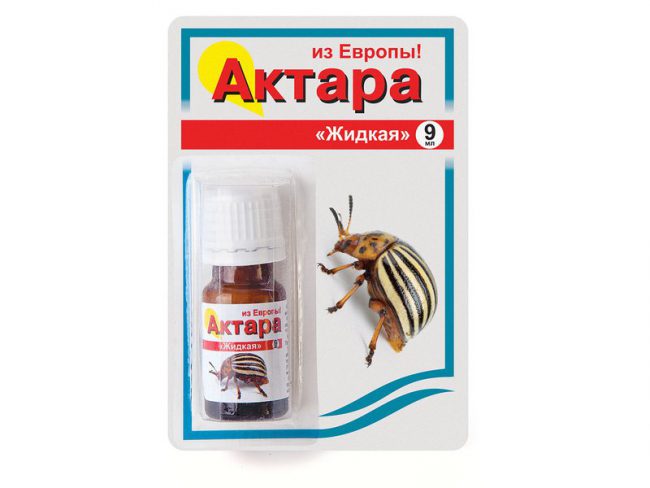 the impact of the principle of
The active ingredient Akhtar insecticide penetrates the plant through the leaves and the root system. He quickly spreads through the rest of the leads to the translaminar effect. Weather, such as high or low humidity, rainfall and the heat does not affect the operation means. It poisons the insect larvae, which feed on plant juice.
note. The preparation of the pest does not accumulate in the fruit of plastics.
The duration of exposure depends on the method of application Akhtar. If it leaves sprayed, the components of the composition will leave after about 24 day. If Aktar processing performed by making a roots, the period is extended to 60 days. Through the vascular system thiamethoxam gets to the leaves, but it almost does not affect the fruit.
Usually Watering Akhtar does not lead to the formation of resistance to other neonicotinoids. However, the development of proven addiction in whiteflies and mealybugs. In the case of uneven wetting measles coma, the land may remain larvae, hatched from eggs. To prevent the emergence of resistance, recommend alternate insecticides of different chemical groups.
How to use this medication?
Instructions for Akhtar provides different ways of processing. Permissible to spray, soaking seedlings and watering. Also, some growers insecticide treated seeds. In the case of using a knapsack sprayer, are as follows::
The tank is filled with water to a quarter.
fungicide package dissolved in a liter of water.
Part of the solution is added to the tank.
The total amount of liquid should reach 5 l.
If the volume is lacking, it was adjusted using water.
You need to close the roof and shake the mixture.
For the treatment of ornamental plants from aphids and other pests take 8 d insecticide in 10 liters of water. For every ten square meters using a liter of the working fluid. Norma Akhtar for shrubs is 250 ml of 10 l. The procedure required to carry out a time to plant flowering, and again after harvest.
To eliminate the Colorado beetle on potato should take about 200 ml means. Usually pests disappear after two weeks. For indoor plants need to be diluted 8 g Akhtar ten liters of water. The resulting mixture is sprayed leaves and stems. Such amount will be enough for about 250 plants. If the soil will destroy the fly, it is enough 1 d insecticide.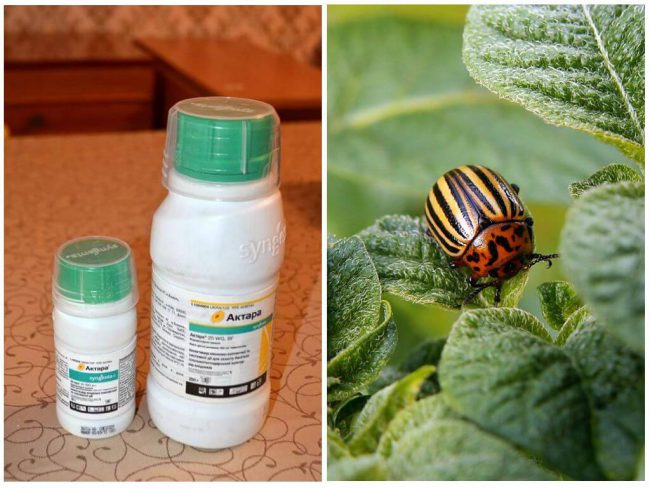 How to breed Akhtar?
The solution temperature in water is prepared at least 25 degrees. Standard flow rate is 10 l 10 m2. For convenience in the first place make the stock solution, and then operating only. Breeding takes capacity, the volume of which is not less than two liters. It connects 4 g liter of water and Akhtar.
In the first sprayer pour 250 ml of water. If you have to handle the potatoes, it is enough 150 uterine ml of the solution. To add bushes 250 ml, a flower - 600 ml. ratio is used for fruit trees 3 or 4 d of 10 liters of water. 3 g enough for apple, and for pears usually take 4 g.
The same amount of Akhtar used to kill bugs on tomatoes, if the selected method of irrigation. may be less for spraying insecticide - all 1,2 g. When watering peppers and eggplants require more preparation, about 4-8 d of 10 liters of water. The same weight is needed for pot flower plants. On average, for most plants is enough to buy 4 g means and to separate them in 10 liters of water.
For seed potatoes of the material take 6 Mr. Akhtar and add them to the 3 liters of water. This mixture is sprayed roots. After treatment, they are mixed and immediately put, because such a potato is not suitable for storage. seedling roots can be soaked in a liter of water 1,4 Akhtar g for two hours. This is done in about half a day before the planting of potatoes.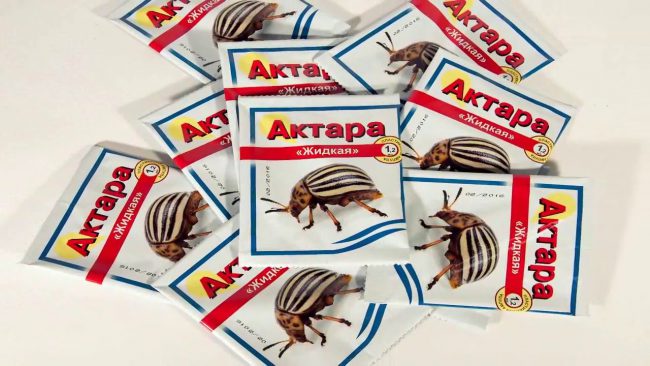 Features of the application
After processing plant insects, who lived in them, refuse to eat. Because of this, the pests die later. Akhtar is considered a universal means, but its liquid form is not suitable for removing ticks. Insecticide is compatible with the vast number of other yadohimiktov.
It is used together with pesticides, fungitsidami, ferbitsidami and growth regulators. Although the guide allows the combination with Akhtar Korevinom, zircon, Appin, Riba-EXTRA and other chemicals, in each case it is better to test for compatibility. It is not recommended to mix the drug with substances with an alkaline reacting.
Despite the low toxicity agents, you must comply with all security measures, are covered by the instructions for use. Work is carried out outdoors, using a respirator, points, overalls and rubber gloves. During processing, it is forbidden to drink alcohol, smoke or eat.
note. Necessary to protect the face and hands from contact with the liquid.
Chemicals should not be placed on fruits, vegetables and feed. After work is required to be washed with soap and water and rinse your mouth. Remains of the insecticide to be used for other plants. Do not contaminate them any water sources. Before re-treatment cultures should be washed knapsack sprayer. Emptying burn.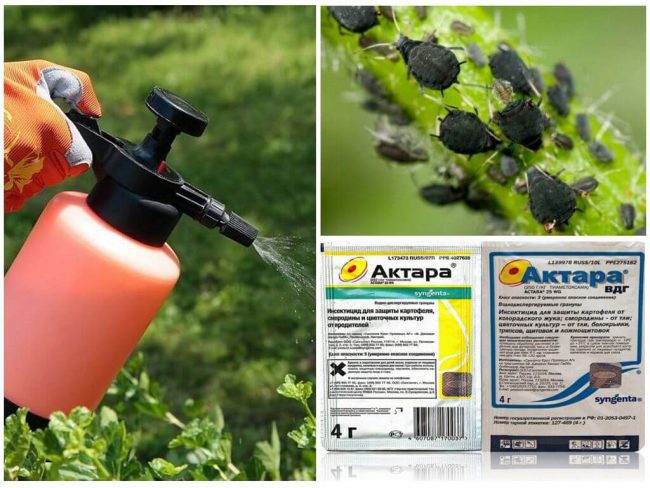 Cost and analogues
Price insecticide in Moscow is an average of 110 to 300 rubles, depending on weight. With him are often purchased and other means. for example, combine Aktar Horus. It is a drug based class of cyprodinil aminopyrimidines. It is used against fungal diseases of crops Fruit and Berry. Horus eliminate mildew, leaf curl, scab and burn monoliozny. Means of influence and to some other spot and rot.